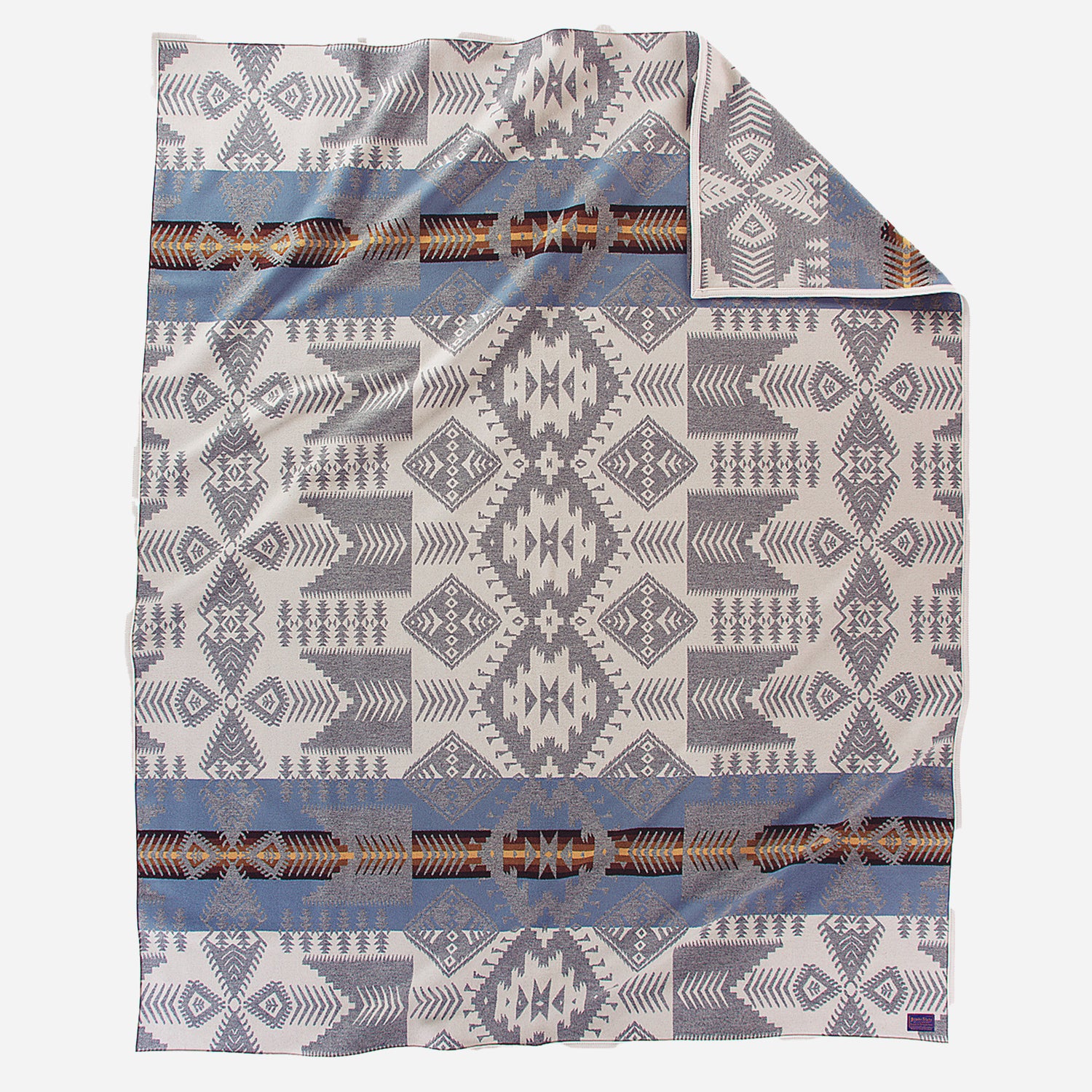 Jacquard Blanket - Silver Bark
Pendleton
Regular price £ 425.00 GBP Sale (Ex VAT & Duties)
Black Friday Sale - 15% Off Everything!
Use Code BLACKFRIDAY23 at checkout
Pendleton Blanket - Silver Bark
These Pendleton Silver Balk blankets are robe size, which is the size preferred by Native Americans for ceremonial purposes and wrapping about oneself as a robe. These blankets fit perfectly over a double bed, can be used for wall hangings or just for cuddling up on the sofa.
Silver Bark 
The Silver Bark blanket is a beautiful example of an "Overall" blanket pattern, with design elements repeating across the entire surface of the fabric. It brings to life the early age of Pendleton blankets, circa 1920, and features stylized arrows, stars, diamonds and waterbug motifs.With colors inspired by the white and gray bark of the Aspen trees against the blue sky, this blanket was re-discovered by an ardent collector. The blanket is cherished for the muted colors that give it an instantly well-worn look of a much older blanket. Silver Bark brings the sky and earth together in a classic Pendleton blanket design. 
Heritage Collection
Pendleton history, made new again. From our archives we have chosen to re-introduce these enduring designs, sure to be just as cherished today as when we first created them. Dating back as far as 1896, each blanket in the Heritage Collection illustrates the geometric motifs and weaving expertise that quickly became a Pendleton hallmark. An unnapped finish preserves the blanket's authenticity.
82% pure virgin wool/18% cotton. Dry clean.
Made in the USA. 64" x 80" (163 x 203 cm).
BREXIT UPDATE FOR PENDLETON EU
Due to recent changes in the UK & EU's trade agreements, customers living within the EU will no longer be charged VAT online on their purchases from Pendleton EU.
Please note, your order will be shipped on a DAP (Delivered at Place) service and you may be required to pay duties, taxes and local VAT on your purchase when it arrives in the destination country. Our courier, Fedex, will contact you in advance of delivering the goods. 
Unfortunately, we have no control over these charges, and cannot tell you what the cost might be, as customs policies and import duties vary widely from country to country. It might be a good idea to contact your local customs office for current charges before you order, so you are not surprised by charges you were not expecting.

The customer must take full liability for any parcels returned to us due to unpaid customs charges. Postal charges, return shipment costs, customs charges and handling fees will all be deductible from any refund due.